SpiroScore+ | Syringe Trolley
Introducing a simple and affordable universal calibration syringe trolley featuring lockable wheels and adjustable height.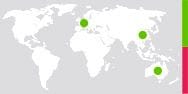 Available in: Australia, Europe, China
Unavailable in:
---
"Holding the syringe body to steady the syringe during a calibration verification can raise its temperature and contribute to measurement error."2019 ERS/ATS standards for Spirometry
In recent years many customers have provided feedback about the issues of volume calibration with heat transfer and angular leak issues etc. so Bird Healthcare designed a syringe trolley with a height adjustment. This results in more consistent results and less error in calibrations to ensure greater accuracy.
Features Include:
Secure strap universal fit
Cushioned cradle
Premium all-alloy design
Height adjustable stable locking base
Doesn't include calibration syringe.
---