SpiroScore+ | 3L Calibration Syringe
For use with spirometry equipment.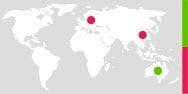 Available in: Australia
Unavailable in: France, China
---
Features include:
Accurate and precise: SpiroScore+ calibration syringes meet or exceed all the latest ATS/ERS recommendations for accuracy & precision
6061-T6 aluminium alloy: manufactured from the versatile 6061-T6 aluminium alloy.This guarantees robustness & ensures a long product lifetime.
Easy to use: SpiroScore+ calibration syringes are easy to use & maintain their integrity in the challenging pulmonary function testing environment.
Excellent stability: The unique hexagonal design has integrated paddings on all sides. This ensures a stable calibration process & prevents the syringe from rolling.
Universal adapter kit: An optional universal adapter kit is available with outlet port adapters in four different sizes. This enables you to use SpiroScore+ calibration syringes with the spirometer of your choice.
Spirometry according to ATS/ERS: The use of calibration syringe enables calibration & verification of the spirometry system. This ensures that your system is accurate & functioning properly.
Doesn't include a spirometer.
---