e-chamber | La Petite
Item Code:
BHC-LP-50, BHC-LP-25, BHC-LP-1
The e-chamber La Petite is a spacer for effective delivery of medication suitable for all ages. The compact 220ml separable chamber is made from durable polypropylene plastic, which is entirely recyclable. This is also anti-static to ensure minimum medication adheres to the chamber, unlike alternatives.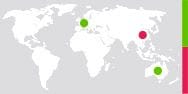 Available in: Australia, New Zealand, Europe , UK
Unavailable in: China
---

Features include:
220ml
Anti-static plastic with embedded particles - can't be scratched or washed off
Single patient re-usable
Easy cleaning
Universal inhaler fitting
15mm-22mm round mouthpiece
100% recyclable
Inhaler can be conveniently stored inside
Retail packed and available in quantities of 1, 10, 25 or 50 per box
Availability:
NSW Healthshare
QLD LAM
Symbion: 646237
API: 58050
CH2: 2477662
---