Ventica Recorder Kit
IMPEDANCE PNEUMOGRAPHY FOR CHILDREN'S NOCTURNAL LUNG FUNCTION TESTING
The Ventica® System is a new paradigm for the assessment and management of asthma for children aged 5 years and younger.
Importantly for small children, Ventica® requires no unpleasant contact with the mouth or nose. Measurement is performed at home in familiar surroundings while the child is asleep.
Measurement is comfortable for the child and, best of all, the system can be easily setup and managed by parents themselves in their own home.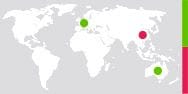 Available in: Australia, New Zealand, Europe, UK
Unavailable in: China
---
Ventica® gives you a reliable quantitative result
Physician-guided parental use of the Ventica® System can provide a first assessment of a young child's lung function with a quantified interpretation leading to an objective assessment of asthma. The whole-night duration of the Ventica® measurement gathers the large amount of respiratory data needed for sophisticated analysis.
Improves long-term asthma management
Parental use of Ventica® with their child allows for longer-term monitoring of their child's respiratory patterns. The score calculated by Ventica® may allow healthcare professionals to optimise asthma treatment for the paediatric patient, when complemented by other clinical and diagnostic assessments.
At-home measurement empowers parents
Measurement is comfortable for the child as Ventica®'s proprietary bioimpedance-based measurement is non- intrusive and performed passively while the child is asleep.
"Ventica® will allow improved management and care of infants and small children with chronic respiratory disorders, specifically asthma, in the comfort of the child's home. It provides a comfortable, easy to use, non-invasive and objective lung function measurement that empowers parents and caregivers. It also improves the physician-parent relationship by providing the most appropriate care for the child."
Davor Plavec, Associate Professor, MD, MSc, PhD, Children's Hospital Srebrnjak, Croatia
---