Thorasys | TremoFlo C-100
Airwave oscillometry: fast, easy assessment of small airway function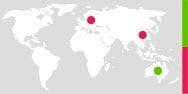 Available in: Australia
Unavailable in: France, China
---
The Tremoflo C-100 Airwave Oscillometry System (AOS) offers fast and easy assessment of large and small airway function. Measurements are obtained during tidal breathing and without patient effort. The Tremoflo is ideally suited for a wide range of patients, from pre-schoolers to the elderly.
Outcomes - The Tremoflo provides curves of Resistance (R) and Reactance (X) as well as parameters reflecting large and small airway function.
Central obstruction - An obstruction of the large, central airways causes a parallel upward shift in R while remains largely unchanged.
Peripheral Obstruction - Obstruction of the small airways in the peripheral lung causes a downward shift in X along with an increase in R. In presence of heterogeneities, R also becomes curved.
Dynamic Collpase - Dynamic collapse and expiratory flow limitation cause dramatic changes in X, especially during expiration.
---