SOMNOmedics | SOMNOscreen Plus
Item Code:
SOMNOscreen Plus
Cardio respiratory Polygraphy with advanced analyses for ENT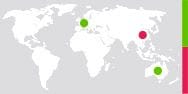 Available in: Australia, New Zealand, Europe , UK
Unavailable in: China
---
Features include:
Easy Handling - Easy to apply, pre-programmed or manual start which can run for up to 18 hours
Full cardio respiratory screening
Upgradable to a full portable polysomnography system
Up to 58 channels
High sampling rate - For the best recording of respiratory sounds a high sampling rate of the signal is required. Since the usual 100 Hz are not sufficient for this application, the SOMNOscreen plus offers a sampling rate of up to 4 kHz.
Audio playback of the snoring sounds - The additional possibility to acoustically replay the snoring sound directly from the raw data in the DOMINO analysis software allows a subjective judgement of the respiratory sound during the analysis.
FFT frequency analysis - allows a modern and easy analysis of respiratory sounds as well as the analysis of all other recorded signals.
---