Bitmos | Sat 805 Pro
Lab-based overnight oximetry device with large display and easy integration with all polysomnography sleep systems. Utilises Masimo SET® technology for best quality and reliable data.
Includes 1x Sat 805 Pro, Instructions, Patient Cable, Power Supply.
Sensors, stands/handles, memory card and software sold separately.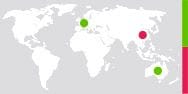 Available in: Australia, Europe
Unavailable in: China
---
New standard in operation and technology
The development of the Bitmos sat 805 Made in Germany sets new limits in pulse oximetry. The modern design reflects its intrinsic values: top-level quality.
Analogue interface
Remote alarm
Simple operation
USB interface
Brilliant LC display
FastSat algorithm
Signal IQ
SD card
What is Masimo SET® ?
Masimo SET® represents a fundamentally distinct method of measuring and processing arterial oxygen saturation and pulse rate.
Masimo SET® combines sophisticated signal algorithms with an innovative sensor design. Bitmos sat 805 combines the advantages of this technology with user-orientated features.
Bitmos sat 805 eliminates false alarms and monitors arterial oxygen saturation accurately during motion and low perfusion.
Exceptional ease of use for clinical, sleep lab and home care applications
In the hospital
Reliable technology and alarm management are key factors for correct and efficient clinical interventions.
In the sleep lab
Various interfaces enable the sat 805 to be integrated into all polysomnographical work stations.
In the home care setting
Simple operation of the sat 805 allows for safe use in the home by non-professionals.
Simple operation
The multifunctional rotary encoder serves as the main operating and alarming element. The proven menu structure is widely accepted and assures minimum training. The LC display is not only large: the high-contrast backlight enables a perfect visibility under all lighting conditions.
Latest Li-Ion battery technology assures a mains-independent operating time of 20 hours minimum. Merged with its compact design, the sat 805 has unique advantages during mobile use.
Data storage and export is carried out by means of a SD memory card. All monitoring data is transferred quickly, easily and safely to the PC reporting software in minimum time.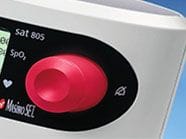 Rotary encoder with combined alarming function.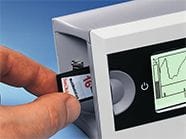 Data export via SD Card or over USB directly to PC.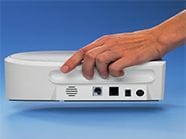 Handy dimensions, multiple interfaces: remote alarm, analogue, USB.
Innovative serviceability
System updates may be carried out on-site. Modular component setup allows quick and easy repair within minutes.
Documentation
PC reporting software satview for easy and quick analysis and complete monitoring documentation. Easy operation and clear illustration of monitoring periods, alarm events, data analysis including a printed one-page-report.
---