Bitmos | Sat 801+
Home-based overnight oximetry device with large protective rubber boots and compact design. Utilises Masimo SET® technology for best quality and reliable data.
Includes 1x Sat 801+, Charger and Instructions. Sensors, cables, stands, memory card and software sold separately.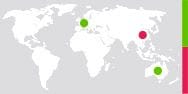 Available in: Australia, Europe
Unavailable in: China
---
The + Makes the difference
latest Masimo SET technology
USB interface
latest LiIon battery technology
easy-to-operate
integrated rubber boots
plethysmogram
mains & battery powered
microSD card
What is Masimo SET® ?
Masimo SET® represents a fundamentally distinct method of measuring and processing arterial oxygen saturation and pulse rate.
Masimo SET® combines sophisticated signal algorithms with innovative sensor design. More than 100 independent and objective studies demonstrate that Masimo SET® provides the most reliable SpO2 and pulse rate measurements even under the most challenging clinical conditions, including patient motion and low peripheral perfusion.
Bitmos pulse oximeters combine superior technology with user-orientated features. Bitmos pulse oximeters eliminate false alarms and monitor arterial oxygen saturation accurately during motion and low perfusion.
More parameters
The sat 801+ comes in different configurations for standard and special pulse oximetry monitoring situations such as Sudden Infant Death Syndrom monitoring and Congenital Heart Defect screening.
Longer battery life
The sat 801+ has an enhanced battery performance for mobile use and autonomy. Independent batteries provide for an increased safety level.
Versatile interfaces
Data transfer has never been so fast and easy: either via USB or by SD card, stored data can be transferred to the computer for analysis.
Product Variations
Joint features
All devices are based on the same sophisticated Masimo SET® technology. Bitmos pulse oximeters are designed to be easy-to- use in clinical routine as well as in the home care setting. Unique data transfer interfaces complete the set of innovative features of the sat 801+. Designed and Made in Germany.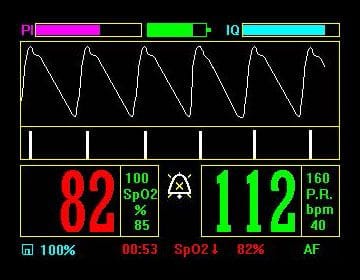 Sat 801+
The basic model features pulse oximetry at its best: Masimo SET®. The brilliant multi-color TFT display ensures enhanced ergonomics. Latest advancements by Masimo in pulse oximetry technology allow for enhanced battery autonomy. The full-size plethysmogram in high resolution is now also available for handheld models.
sat 801+ SpO2
Currently, the sat 801+SpO2 is the only available model offering dual SpO2 in one single handheld screening device. Thereby the sat801+SpO2 eliminates problems related to the usage of different SpO2 technologies such as accuracy, timing etc.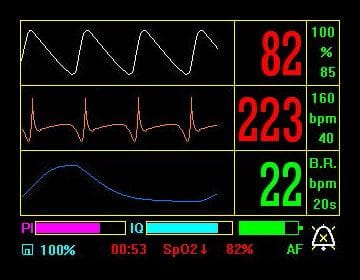 sat 801+ inf
The sat801+Inf is the choice whenever you want to assess the main vital functions of patients at risk. Pulse rate, respiration and SpO2 have been merged into this small handheld monitor with full graphical capabilities.
---