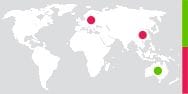 Available in: Australia
Unavailable in: France, China
---
The NuvoAir portal automatically sync's comprehensive spirometry data between device and database. All data is stored and fully encrypted in the web based portal, for optimal patient privacy. The portal also allows for healthcare professionals to view patient technique through its unique webcam functionality.
NuvoAir is proud to announce that major London based hospital, the Royal Brompton, has recently implemented the NuvoAir portal and spirometer for the monitoring of Cystic Fibrosis patients. The aim of this partnership is to improve the lives of cystic fibrosis (CF) patients by providing better technology solutions.
For more information on the Royal Brompton Cystic Fibrosis case study, please click here.
---