Medikro | Nano Portable Spirometry
PC based mobile spirometry.
Medikro® Nano is the world's smallest Windows-compatible spirometer, weighing only 11 g. With Nano, the advantages of PC-based spirometry are now available in a mobile setting.
Nano utilizes the easy-to-use Medikro® Spirometry Software. The system features fulfil the needs of doctors who want to perform on-site testing with a mobile system, while maintaining precision and accuracy of results. With disposable Medikro® SpiroSafe flow transducers there is no need for bacterial filters or sterilization. This increases patient throughput and saves operational costs.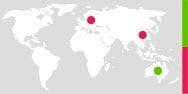 Available in: Australia
Unavailable in: France, China
---
Features include:
Wide range of measurements - VC, FVC, FIVC, FC+FIVC
Post Phase
EHR interface
Shared database
92 measurement varibles
32 reference sets
To be used with Spirosafe Mouthpiece
---