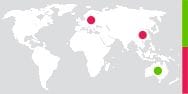 Available in: Australia
Unavailable in: France, China
---
The Bedfont NObreath is a FeNO (Fractional exhaled nitric oxide) measurement device used to monitor airway inflammation in asthma patients. The FeNO test is quick, patient friendly and a non-invasive way to assess patient adherence to inhaled corticosteroids.
Benefits of performing FeNO Testing:
Shows patient's response to treatment, enabling the correct prescription of medication
Shows patient compliance
Aids in identifying patients who do/do not require ongoing treatment
Shown to be superior to the majority of conventional tests of lung function, such as peak flow recording and spirometry
Features Include:
Non invasive, quick and easy to perform as 1, 2, 3: inhale, exhale and read results.
Battery indicator: requires three AA batteries, making it portable and easy to transport.
Colour touchscreen: for quick and ease of use with visual prompts for patients whilst taing a test to ensure correct results every time.
Internal pump and NO scrubber: enabling warm up and recover time to be a maximum of 60 seconds by constantly presenting the sensor with NO free ambient air.
Adult and child profiles: to ensure the best sample times.
Comes complete with:
50 Mouthpieces
25 alcohol free cleaning wipes
carry case
---