e-actuator Disposable pMDI
Minimisation of potential cross contamination of salbutamol actuators for laboratories conducting pre and post bronchodilator testing.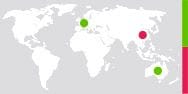 Available in: Australia, New Zealand, Europe , UK
Unavailable in: China
---
Re-use medication canister, but replace the housing for optimal infection control.
The E-Actuators are available as part of our combo deal, or can be purchased as a stand alone product.
A single salbutamol puffer will typically provide up to 200 actuations, hence making it an extremely costly and wasteful practice to replace or dispose of the salbutamol MDI between every patient.
Features include:
Single patient re-usable
100% recyclable
Available in a quantity of 100.
---